Digital Smile Design
​Digital Smile Design allows dentists and technicians to realize the digital project of the aesthetical and functional smile rehabilitation through simple and automatic tools. Following an intuitive and guided process dentists will be able to show to the patient the preview of the prosthetic result, giving technicians all the necessary information to realize the project.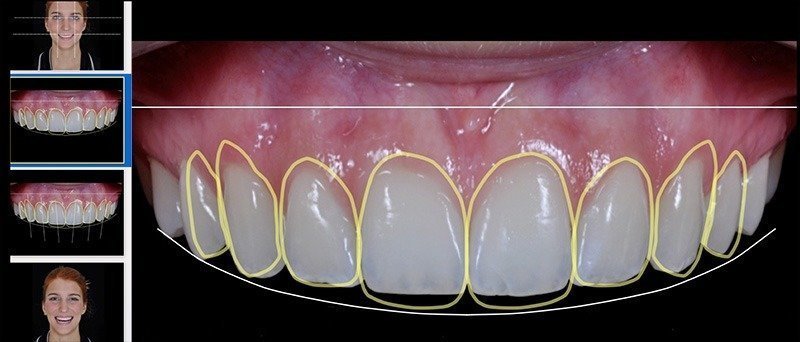 The current practices of digital reconstruction of the smile involve the use of photo editing programs. Instead, thanks to automatic calibration instruments, the Digital Smile Design is able to obtain precise measurements, and its specific tools are able to realize authentic and reliable projects.

The excellence in functional and aesthetic dentistry will never be achieved by accident. It is consistently achieved by a systematic approach for diagnosis, communication, treatment planning, execution, and case maintenance.
Digital Smile Design is a multipurpose conceptual protocol which provides remarkable advantages:
The diagnostic abilities are facilitated through an extra-and-intra oral aesthetic and structural evaluation Improved communication between the team members providing a better visual perception, education and motivation for patients Increased effectiveness of case presentation and accordingly case acceptance.
Digital Smile Design ethically involves the patients in the restorative or smile enhancement process, making them the 'co-designer' of their own treatment by sharing objectives, expressing their desires and expectations with the restorative team. The interaction between patient and dental specialist is improved by photos and videos taken at several steps of the treatment.The experiences all over the world have been tremendous. Once the restorative technical requirements are combined with the desires and emotional needs of the patient, great results will be achieved - creating a path to a natural, confident and beautiful smile
Keywords
Digital Smile Design Sub Expertises